Post #1 by
SillyFawn54285
TITLE
Upcoming Games Lounge
---
What upcoming games are you most interested in, and why?
This thread is for people to post upcoming games that they are interested in.
Here is the one I am looking forward too the most.
Call of Duty : Cold War
Kinda an obvious one. Played COD franchise since COD4 (excluding dogshit Infinite Warfare), can't wait for zombies and to see how Cold War will pair with Warzone.
PS4 Cold War Alpha was promising with decent maps, wide variety of weapons/attachments and for the most part clean animations (ignoring the fast af sliding). There were a few downsides, being graphics not looking as sharp as MW (this might be due to alpha shit), and score/killstreaks being carried over after dying (rewarding dogshit players).
OPEN BETA :
8th October
RELEASE DATE :
13th November
PLATFORMS :
PC/PS4/PS5/Xbox One/Xbox Series(S/X)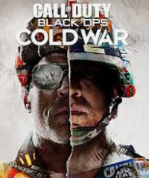 Last edited:
SillyFawn54285's SIGNATURE
---